Missionaries to Honduras
LeRoy & Amber Rolston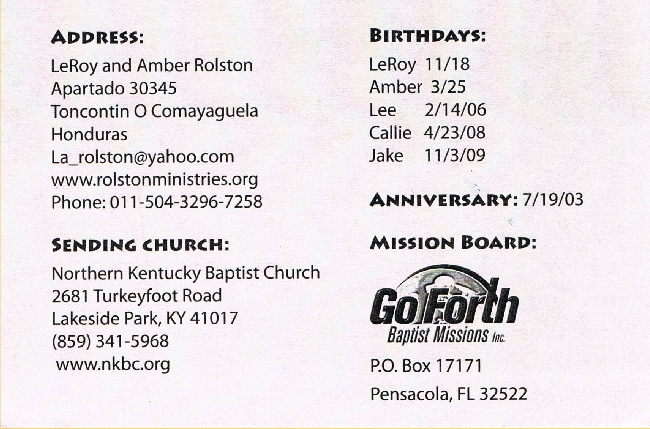 Apartado 30345
Toncontin O Comayaguela
Honduras CA
LA_Rolston@yahoo.com leroyrolston@mwbm.org
RolstonMinistries.org
Dear Pastor / Co-Laborer,
Thank you so very much for prayerfully considering our ministry. We are the Rolston family: LeRoy, Amber, LeRoy III, Callie Jean, and Jake. God has called us to take His gospel to the people in Honduras, Central America. As anywhere else in this world, there are many souls that are longing for truth in the land of Honduras.
A vast majority of Hondurans claim to be Catholic, but very few actually hold to this religion. As well as Catholicism, the country is influenced by Mormons, Jehovah's Witnesses, the Charismatic movement, and many other false teachings. In spite of these many religions, we are convinced that many Hondurans are in spiritual darkness.
Our goal is to show the people how they can have a personal relationship with Jesus Christ. We so desire to give Hondurans the opportunity to trust Christ as their personal Savior and then to disciple them to give them the opportunity to be effective Christians. We are working along side Sam and Julie Hodges who have been working in Sabanagrande, Honduras for over twelve years. They had planted a church in this town, but were desperate for fellow laborers. The harvest in this mountain town is plenteous, but the laborers are few. As the Lord has allowed, we are assisting in the following various ministries: New Life Bpatist Church, New Life Baptist Seminary - training young men to start and pastor local new testament baptist churches, and New Life Bilingual Christian School (using the A Beka curriculum).
We pray that you would consider partnering with us and share the burden that God has given to us for Honduran souls. Thank you in advance for your consideration in this matter and we look forward to speaking with you in the future about the need for Christ in Honduras.
Because He Lives,
Bro. LeRoy Rolston
---
CCBT Supported since 2012